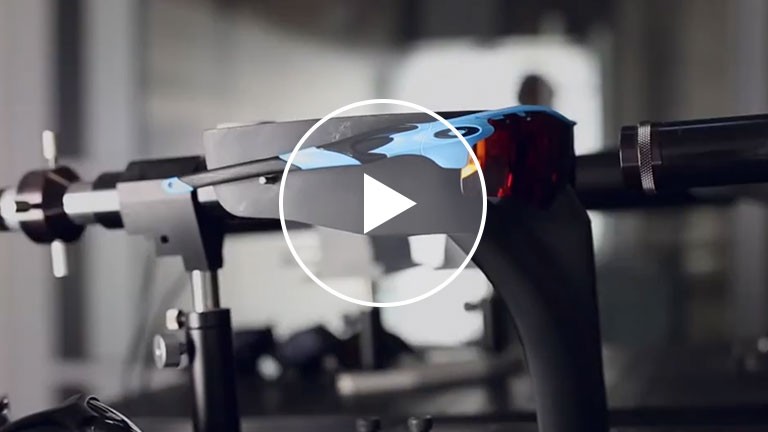 The latest installment of PROCESS takes us to Foothill Ranch, California, where Oakley's Factory Pilot Ryan Weber walks us through a series of tests highlighting the technological innovation in eyewear that takes place over at Oakley's labs for today's consumer.
The first two "Lens Superiority Tests," respectively labeled "Definition and Clarity," and "Laser Precision" reaffirm Oakley's mission of having their lenses do most, if not all of the work when considering how the brain and eyes interact in order to process imagery. The final two "Lens Superiority Tests," "Impact Protection Part 1″ and "Impact Protection Part 2″ are exactly what they sound like.
The first impact test displays the protection offered by Oakley lenses when on the receiving end of an incoming, high velocity projectile. A quarter-inch steel shot is blasted directly at the Plutonite® lenses at 102 MPH, modeling the impact of road debris hitting the face while cycling.
The second impact test showcases the resilience of Oakley lenses, which are able to withstand the direct force of a 500 gram steel spike being dropped from 127 centimeters above. In real life, this test replicates the lenses protecting your eyes from a handlebar collision on the trail/contact with a tree branch on the trail or an accidental smack in the face by the tip of a ski.
In the spirit of performance and innovation, Oakley continues to raise the bar by developing new technologies that exceed today's standards.
For up-to-date news and more: https://www.hypebeast.com View more HYPEBEAST videos: https://hypb.st/VbvIa3