December 7, 2022
Punctal plugs are something we use to help treat Dry Eye Syndrome. This syndrome is a multifactorial problem that comes from a generalized decrease in the amount and quality of the tears you...
Our Latest News Blog
Details

Written by

Harbor View Eye Care Team
You wouldn't dream of going to the beach without sunscreen on, or snow skiing without goggles to protect you from "snow blindness"..... So what do you do to protect your eyes from potentially harmful blue light from screens? Blue light exposure is at an all time high, with the average viewer spending greater than 5 hours per day behind some sort of screen device.
New research is exploring the effect of light rays emitted from phones, computers, television, and some LCD lights to see the effect on the retina and lens of the eye. The blue light spectrum is a portion of the visible light spectrum similar to UV-A and UV-B. UV-B exposure has been a known cause of cortical cataracts. This is leading researchers to conclude that this exposure needs to be studied more.
"New research evidence suggests that high energy visible light from artificial sources may not be entirely harmless," from Karl Citek, O.D.,Ph.D., Chairman of the American Optometric Association Commission on Ophthalmic Standards. With this in mind, more research globally on this portion of the light spectrum has now ensued.
One of the potential effects are the increased risk of macular degeneration because the delicate macular cells of the retina can be affected by long term exposure to certain wavelengths. Another event being studied is the effect on sleep habits.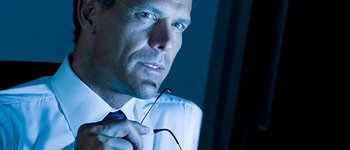 You see, blue light exposure right before bedtime may inhibit sleep because the blue light keeps us alert, and blocks the production of melatonin which puts us to sleep. So stopping use of your computer one hour before bedtime is recommended in order for the body to properly produce the melatonin you need to fall asleep easily.
Treatments for limiting exposure to harmful blue rays comes in the form of tinted lenses. Yellow, amber, orange or red lenses can protect more fully from any potential hazards of blue light exposure. There are also anti-reflective lens treatments that are quite effective put out by major lens companies.
Overall, more research is definitely needed, but there may be a moment in the future that putting on "screen time " glasses will be as common as sunscreen.
References
Article on Light and Eye Damage by Gregory W. Good, O.D., Ph.D.

The content of this blog cannot be reproduced or duplicated without the express written consent of EYEiQ
This entry passed through the Full-Text RSS service - if this is your content and you're reading it on someone else's site, please read the FAQ at fivefilters.org/content-only/faq.php#publishers.
Details

Written by

Harbor View Eye Care Team
Glaucoma, often referred to as "the silent thief of sight", can occur with no warning signs, pain or symptoms. It affects 3 million people in the United States and has caused blindness in over 120,000 people. Glaucoma cannot be cured, but if detected early can be managed to limit its effects.
Glaucoma usually occurs when there is an increase of pressure within your eye, but can occur with normal eye pressure as well. This pressure causes damage to the optic nerve, which is the weakest part of your eye, leading to decreased peripheral vision and possibly blindness.
Your eye is divided into two chambers, the anterior chamber at the front of the eye, and the posterior chamber at the back. A fluid, called the aqueous humor, is produced by the cilliary body and circulates between the two chambers to clean and nourish your eye. Once it reaches the edge of your iris it leaves the eye through an opening called the trabecular meshwork.
With glaucoma, more fluid is produced than can be removed, which leads to an increase in pressure in the anterior chamber. Eventually the pressure throughout your eye increases, exerting force on the neural fibers of your optic nerve. Over time this causes damage to the optic nerve, which leads to partial or total vision loss.
There are a number of risk factors for glaucoma including age, ethnicity, family history, and certain medical disorders such as diabetes. If you are at a higher risk for glaucoma be sure and consult with your eye care provider regularly to increase your chance of early detection.
Subcategories